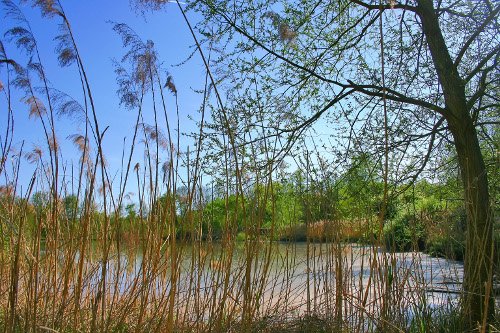 "
Alsace's Petite Camargue is brimming with an extraordinarily rich diversity of animal species and plant varieties: there are no less than 200 species of birds, 40 kinds of dragonflies and 17 orchid varieties. "
Located to the south of the region, Petite Camargue in Alsace is the oldest nature reserve in the region. It was founded in the mid-19th century. At this time, the aim was to reintroduce species into the wetlands. Today, it is a fantastic place to observe flora and fauna. There are no less than 40 species of trees, 180 species of bird, 16 batrachians and 40 types of dragonflies.
From mid-August to October, you can observe migratory birds as they stop to rest for a few days before continuing their journey. On their way from northern Europe, hundreds of storks and birds of prey stop over here!
In the summer during European bat night, you can observe bats in their natural habitat, but the site is open all year round for you to discover at your own pace or on a guided tour, along the 3 sign-posted trails.
Additional information
Altitude : 250m
Distance to the nearest station (km) : 0,5
Type of visits proposed : Free visit, Guided tour for groups
Equipment required : Walking shoes
Languages spoken : French, German
Restaurant on site : Drinks